Potter County Today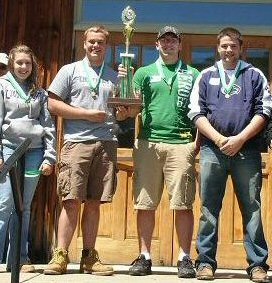 This year marks the 65th anniversary of the founding of the Potter County Conservation District — the first such county agency in the state. Since its founding in 1945, the PCCD has expanded its mission to include prevention of soil erosion, protection of watersheds, conservation education, advocacy for sensible land-use policies, and cooperative efforts with state and federal agencies as well as legislators to help protect  ecosystems.
"Much of the effectiveness of conservation districts is due to their ability to successfully work with local, state, and federal agencies and organizations," according to the agency's website, accessible here. "Districts are equally comfortable being environmental mediators and peacemakers as they are environmental planners and program originators."
Serving on the Board of Directors are Jerry Barnett, Earl Brown, H. Richard Curfman, Doug Morley, Phil Lehman, Leroy White and Ken Comstock. Associate directors are Pete Ryan, Jon Blass, Carl Long, Roy Thompson and Ron Angood. Staffers are Chad Moshier, district manager; Colleen Frank, assistant manager; Jack Fleckenstein, watershed specialist; and Abbey Ernst, resource conservationist.
Education and youth development are among the Conservation District's priorities. To encourage environmental and conservation education, PCCD participates in the statewide Envirothon, during which high school students are tested on their knowledge of science and the outdoors. Top team from Potter County advances each year to the statewide Envirothon. Shown above is the winning 2010 Envirothon team from Coudersport High School (left to right): Denielle Moshier, Kyle Freeman, Chris Symans, Kyle Taylor and (unavailable) Maureen McCusker.
(Please note: Due to the unavailability of the two scheduled guest speakers, the Potter County Conservation District's 65th anniversary banquet originally scheduled for Nov. 16 in Ulysses has been cancelled.)